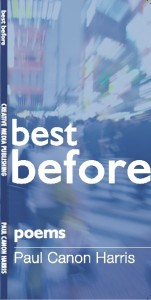 This week's guest post is from poet Paul Canon Harris who has recently hit the performance poetry circuit. So pour yourself a drink, find yourself a seat, and let's get on with the show …
I am something of a novice and a Johnny-come-lately to writing and performing poetry. When you are a keen sportsman and most of your pals are alpha-male beer drinkers it takes a bit of courage to come out as a poet! In the last year I have done that, my first collection of poems, Best Before, is now published and I am reading or performing poems in a wide range of venues.
Hitting the circuit
In the last seven days I have read at a men's event in a Buckinghamshire pub, (less dodgy than it sounds), at a harvest supper in Dorset, in a Hampshire school and in an open mic session for Freeway Poets in The Winchester, Bournemouth. Byron Vincent was headlining to a packed house that made that excellent venue rock. Over the course of two hours pretty much every style and form of live poetry was on display. Free-styling, rap, performance poets with elaborate costumes and soundtracks, animated readers like me and shy people who stood and delivered. There were poems to amuse, to challenge and shock. Some poets expressed personal faith (Christianity, paganism, Buddhism) mostly in an understated way. There were two or three atheists too. Notwithstanding those differences the audience was supportive, if a little raucous and fellow performers generously recognized each other's craft and the fact that, irrespective of their beliefs, you have to admire people with the privates (balls even) to express themselves in public.
The reading / speaking debate
The fact that I have dived headlong into the maelstrom that are the currents of the live poetry scene tells you where I stand in the age old debate of whether poetry in its purest intended form should be read on the page or performed/read live. This debate was re-energized at the beginning of the 20th century. There was a movement that emphasized poetry as sound. The poet Basil Bunting argued that the poem in print was "like a musical score; not fully intelligible until sounded". [For more on the importance of sound in poetry, see the guest post by Joan Johnston 'Are you listening carefully?' – Ed]
Poems like Victorian childen
If that is the red (read? – I am here all week) corner, other voices in the blue corner were adamant that the performing of poems obscured the craft and power of poetry, making it less likely that the audience would engage at a deep level with the work. People like David Groff of the Academy of American poets warn of these dangers and tend towards the view that poetry should be like Victorian children – seen and not heard! Richard Howard, argues that a poem is an "intimate act of communication, not an occasion for a group grope".
By personality I am a both/and type of person. I like to have my cake and eat it, though I try not to speak with my mouth full! One of my poetic heroes is Steve Turner. I remember being in a crowd of 20,000 in 1979 at the Greenbelt Festival. Steve performed on the main stage on the Friday and Saturday between headline acts After the Fire, Randy Stonehill and Cliff Richard! A crowd that had been rocking one moment hushed and hung on his every word as he stood centre stage and without drama read from a sheaf of papers. I asked him recently how that felt. He said,
It was the biggest crowd I have ever read to. I felt a bit detached because lights are shining in your eyes and you can't see specific faces. Because of that, it's less intimidating than reading to 10 or 15 people in a small room. I could also hear the echo of my voice because of the slight delay. It was very gratifying to be able to get people laughing and appreciating in such a large venue.
Reading or performing poetry aloud is intimidating. Sometimes you feel as though you have been sleep walking and have arrived centre stage naked. However the challenge of engaging with an audience is one I enjoy. Gauging what they are like can be tricky. In my experience it is wise to allow for flexibility in the set of poems I have chosen. The spontaneous reaction to poems is sometimes surprising – the hearers, like readers, hearing and seeing an element beyond my original intent. At those moments I know my babies that I have launched into the world have taken on a life of their own and can fly.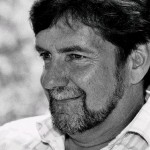 Best Before is Paul Canon Harris's first collection of poems. He draws on his experience as a police officer and vicar to write about everyday life. They are witty, sharp and keenly observed. Paul, who lives in Bournemouth, performs regularly at live events and on radio.
Related posts: