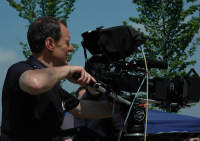 Image courtesy of FNA Films
THIS PAGE IS UNDER REVIEW AND IS BEING REDEVELOPED. FOR UP-TO-DATE INFORMATION ON FIONA'S FILM AND THEATRE WORK  VISIT http://fiona.veitchsmith.com
Produced screenplays
Enemy Lines
(FNA Films, 2008)
A soldier returns from the battlefield to a British street. As his tortured memories threaten to overpower him, he is faced with the choice of saving an anti-war protestor from a mugging or leaving her to suffer her fate. Moral lines of right and wrong are redrawn in this short but powerful four-minute film.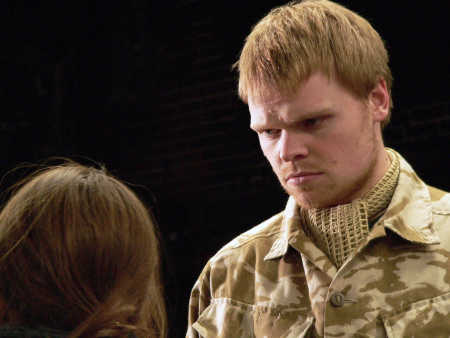 Directed by: Michael Steel
Written by: Fiona Veitch Smith
Produced by: Zahra Zomorrodien and Dawn Furness
Director of Photography: David Dixon
Awards and nominations: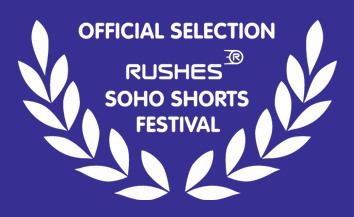 Wally & Floss and the Five Golden Rules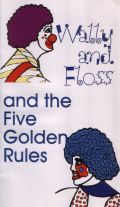 (Edumedia, 1999)
This educational video script was for a pre-school HIV-awareness programme. The project was funded by the South Peninsula Health Department in Cape Town and is still used in pre-schools and nurseries in the city.
Directed by: Dirk Binneman and Fiona Veitch Smith
Written by: Fiona Veitch Smith
Screenplays in production
Traffick
(Independent Production, 2009)
A short documentary film about a young Camerooni woman who was trafficked to the UK and held as a sex slave in London. When her captor found out she was pregnant he tossed her out onto the streets. Now a single mother living in Newcastle upon Tyne, she is claiming asylum.
Directed by: Fiona Veitch Smith
Written by: Fiona Veitch Smith
Producer and Sound Recordist: Tommy Hair
Associate Producer: Mychaela Stevenson
Director of Photography: Jessica Greene
Screenplays in development
Another Man's Shoes
It's 1956, the height of the London jazz scene, and two black pianists arrive in the capital. They've never met but look uncannily alike. One is escaping a gay sex scandal at a posh school, the other is embroiled in an inter-racial affair with a society heiress. Neither realise they're a threat to a billion pound shipping empire and a tycoon who will do anything to stop them. Jazz, sex and murder – it's a perfect fit.
Written by: Fiona Veitch Smith
Spinning
Two women meet in a gym.  They're the same age but on opposite ends of the career / family spectrum.  Clarissa wants Dawn's life until she discovers that Dawn already has a bit of hers. A ten minute film covering a life-time of disappointment.
Written by: Fiona Veitch Smith
Spinning was shortlisted for Northern Film and Media's Maxi Stingers 7.
The Dreamsavers
When children who dream become a threat to the job market, nanoprobes are injected into their brains. Only The Dreamsavers can free the next generation to be all they were meant to be. A SciFi adventure series for 6 – 12-year-olds.
Written by: Fiona Veitch Smith
Stage Plays
I've always loved the theatre. Over the last 10 years or so I've dabbled in everything from musicals to educational theatre and drama:
Pig Stew
Fiona Veitch Smith, 2010
Three sisters inherit a pig farm in Northumberland and are targeted by a conman. Take one dash of greed, a good dose of unforgiveness and a pinch of cannibalism and you have a great recipe for drama.
Winner of the People's Play Award 2010. Will be staged at the People's Theatre in Heaton, Newcastle, in November 2010.
The Idol of Sarajevo
Fiona Veitch Smith, 2007
This is a 100-minute stage play about a Bosnian woman who secretly becomes a prostitute to save her family from destitution. It won the Literary Consultancy Scriptwriting Competition and was a finalist in Contact Theatre's March 'Flip the Script' contest. It has received a staged reading at the Northern Stage in the First of Three new writing project. It was longlisted for the King's Cross New Writing award run by the Courtyard Theatre in Covent Garden and was shortlisted for the People's Play Award.
'The Idol of Sarajevo was one of the most engaging and enjoyable scripts we received' – Lloyd Evans, TLC judge and theatre critic for the Spectator
Melpomene
Fiona Veitch Smith, 2007
Set against the 1896 Olympics in Athens, about the first woman marathon runner who was refused entry to the Games. It's not finished yet, but I hope to have it on the boards before the next Olympic flame is lit! Melpomene was showcased at a staged reading at Northern Stage's 'First in Three' show on 6 February 2008. Northern Stage.
What's love got to do with it?
Fiona Veitch Smith, 1996
This one-act comic musical about the teenage Brian and his trials and tribulations in finding love was performed at high schools around South Africa by Mirror Image Theatre Company (YWAM, South Africa).
Brian's Bad Hair Day
Fiona Veitch Smith, 1997
Brian is back in this sequel to what's love got to do with it, this time with his dysfunctional family and rival girlfriends. Another one-act musical play for a teen audience, with original music by Rodney Smith.
Mary's Passion
Fiona Veitch Smith, 1998
This one-act musical 'passion play' was performed on the Fringe at the Grahamstown National Arts Festival by Mirror Image Theatre Company (YWAM, South Africa). My husband Rodney Smith co-wrote the original music with Simone Woodley. The play had another run over Easter 1999 at the Nassau Theatre in Cape Town.