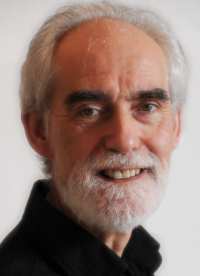 Ray Givans hails from County Tyrone in Northern Ireland but teaches English in County Down. He's also a very gifted poet. He has published four pamphlet-length collections, most recently Going Home (2004) from Lapwing Publications. He has been awarded prizes for his poetry in Britain, the US and Australia and was the first recipient of the Jack Clemo Memorial prize for poetry. Tolstoy in Love, published by Dedalus Press, is his first full-length collection. BBC Writer in Residence Ian Sansom  describes it as 'a true poetic achievement … a work of great human value.' I would agree with him. So after reading this interview, get the book and judge for yourselves.

TCW: Did you consciously write poems around a particular theme – in this case, literary greats of the late 19th and early 20th century – with the aim of producing a collection?
RG: When I began writing, many of the poems were based on my background, growing up in a village in Co.Tyrone, N.Ireland. As I developed as a writer the themes widened to encompass 'literary greats' of the 19th and 20th centuries. The majority of poems conveniently fell within these two categories when thinking of publishing a collection.
TCW: What first attracted you to the theme?
RG: As a Christian I specifically targeted writers who have a Christian or spiritual dimension within their work or lives. I was interested to find out how they lived, as a kind of parallel with my own life.
TCW: How did you go about selecting the title? While it certainly alludes to the 'literary' nature of the poems, it suggests a volume of love stories, which isn't the case. Do you think readers might be misled by this? And if so, does it matter from a marketing perspective? 
RG: It took a long time to finally decide on a title. A friend read through the collection and suggested that the literary lives were the 'strongest selling point' of the collection, and advised beginning with these poems. As the Tolstoy poems predominate within the first section, it seemed logical to choose a title containing the name.  Some people might be misled by the title, but I felt that many readers will be  attuned to the idea that a poem from a collection, used as a title, may not necessarily be representative of the whole collection.
TCW: Did you consciously play on a reference to Shakespeare in Love?
RG: No, but one or two people referred to the Shakespeare connection when I had published the work.
TCW: For me the most satisfying thing in reading this volume was the way you get right into the skin of your characters. Do you have any tips on how developing poets can do this?
RG: A very helpful book is Writing Poems, by Peter Sansom. It includes a number of useful exercises which get the reader to examine a subject from varying points-of-view. [I can also recommend this book – Ed]
 
TCW: I loved the way you play with point of view, shifting between subject and viewer. In 'Tolstoy in Love', for instance, the great man tells us of his love for Sonya. Then in the next poem, 'Sonya Tolstoy', you shift to her POV which is very different from that of her husband's. We then feel compelled to re-read the first poem in light of the second. Is writing from a poetic character's point of view something that has always marked your work or is it distinctive to this collection? What interests you in playing with POV?
RG: For many years I used to write only from my own perspective. However, on finding the possibility of writing from other viewpoints, I was able to write through Tolstoy's voice, his wife's or other characters. This can, if successful, give a multi-layered picture of the main character, his strengths and flaws, his inconsistencies.
 
TCW: When changing POV you also change the 'voice' of the poem. Could you explain to new writers what an editor means when they refer to 'voice'?
RG: I suppose each person has a unique voice, but there are certain characteristics which we have in common with other people, background, job etc. A medical doctor, for example, has to sound authentic, particularly if you place him in a medical situation. You don't need a doctorate in medicine to get the voice right, but it does require some background reading and research if you propose to speak in his voice.  
TCW: The second section of this collection is entitled 'An Emotional Map of Belfast' and while similar in style is very different in subject – your personal reflections on your own life and relationships in Northern Ireland. In a sense you become the 'writer' as subject and viewer. Why did you decide to have what John Wakeman describes as 'two books for the price of one, both worth having.'? Did you ever consider that they should be separate collections and whether or not readers would feel the two should not be together?
RG: I suppose I could have waited and developed the work into two separate collections. However, as I was trying to get a full collection accepted for thirteen years, this did not seem an option. Writing about characters, at a distance, in the first section, perhaps allowed me to address the reader through my own voice in the second section.
 
TCW: You started gaining attention as a poet through winning competitions. How important are compeitition wins? Should new writers enter them? Can you recommend some competitions to Crafty readers?
RG: The winning, or in most cases, being short-listed or commended in a poetry competition can help to promote your name in writing circles, but I would always look to see the judge of the competition. Is he a recognised poet whose judgements you can respect? For example, last year I entered a relatively small competition held in Wells, because the judge was Andrew Motion, the Poet Laureate at that time.
I think new writers might try small or local competitions first, but the small press magazine is a better option at the start to help build a good CV of publishing credits to eventually work towards being published in pamphlet or book form.
The new writer is probably best advised to steer clear of poetry competitions which offer prizes such as £5,000 to the winner. An example would be the annual National Poetry Competition, organized by the Poetry Society. As it attracts upwards of 10,000 entries, many by established poets, your chances are virtually zero. (You might be better putting the exorbitant entry fee on the 3:30 at Wincanton!)
There are dozens of competitions each year, some specialist (focused on a particular form or line length) or perhaps on a theme. It might be best to research these and see if your poems fulfil the criteria, such as 'poems under 30 lines'. Two of the best online guides to competitions (and poetry magazines) are: The Poetry Kit and The Poetry Library.
TCW: Thanks Ray. We wish you well with the sale of your book and strength to your pen for the next collection.
Related posts: