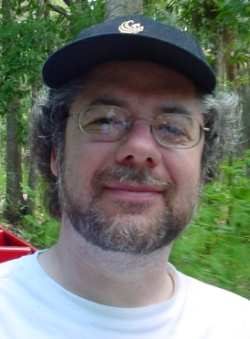 The internet makes our world smaller. It's thanks to social networking sites like Inked In that I've met other writers from around the world. One of them is American playwright Joseph Hayes who has had his work performed in the UK and the USA – an incredible 10 plays and 18 productions in seven years. I decided to ask him about writing for theatre on both sides of the Pond and whether American audiences are different from British.
TCW: When and where did you get your first professional staging?
JH: My first production was "A Little Crazy", at the 2002 Orlando International Fringe Festival.
TCW: How long had you been writing plays before this?
JH: This was my first play. In the fall of 2000 I was told by Canadian author Douglas Coupland ("Generation X") to leave the short fiction field and write plays. It took about a year to write, produce and get this play in front of a paying audience in response to that advice.
TCW: What made this script a success?
JH: At that point I didn't have any unsuccessful scripts (or any others at all) … in fact I can say that with only two short exceptions every play I've written (ten to date, with way too many more in progress) has been produced somewhere. I make my living as a writer, so for me the concept of "unsuccessful" simply means it hasn't been seen by the right person yet – I never give up.
TCW: When did you first submit work to UK theatres and when and where was your first staging?
JH: "Crazy" had a reading in 2001 by Eyewitness Theatre in Manchester; my first full production was "A God in Aspect" in 2004 from the Charade Drama Group in Bristol.
TCW: Have you ever written anything with a specifically British audience in mind?
JH: No. I did have to amend "God" for some British cultural references at the request of the director.
TCW: In your experience, how do British and American audiences differ?
JH: UK audiences actually get "smart" (not a reference to the dreadful movie out now). They read, they're willing to come along for the ride, regardless of where you take them; they're willing to climb two flights of stairs to see a reading of something they've never heard of in someone's flat. American audiences like safe and familiar.
TCW: In your opinion, are American theatres open to British writers and vice versa?
JH: I don't really have an answer for that. I certainly enjoy British writers …
TCW: What are your three top playwrighting tips?
JH: Only 3?
Listen. Go to a park, sit in a diner late at night, ride a bus. Listen to people talking, learn the rhythms of real speech.
Listen. Read your script out loud, at every opportunity. Begin the day by starting from Page One and reading it out loud. Make cuts, changes, read it again. Aloud.
Listen. Buy a bottle of wine and invite some friends over to read your script, cold. They don't have to be actors, but that's nice too. Pay particular attention to mistakes they make, words that get transposed or left out. Odds are, that's the way it's supposed to be.
(I couldn't resist) DO IT YOURSELF. Buy another bottle of wine, invite a lot of friends over, and stage a reading. Rent a hall, convince a restaurant it would be a great use of their empty back room, talk to your neighborhood librarian, get a space, invite people, DO IT. You'll never know if a script works until you hear how an audience reacts.
TCW: Can you recommend any websites, online resources or books for playwrights?
JH: Cough cough, all you'd ever need to know can be found at The Burry Man Writers' Center, the resource website my partner, Jennifer, and I have run since 1997; freelance jobs, fiction markets, tools for building a website, where to find an agent, what books to read, and submission details for several hundred theaters willing to look at new scripts. Ten thousand people visit us each month, which, considering it is a website solely for writers and we don't advertise anywhere, is pretty good. Last year we started a social network for creatives (writers, musicians, artists) called Inked-In which just welcomed its 397th member.
TCW: Is there anything else you would like to share with The Crafty Writer?
JH: Between The Burry Man and Inked-In, I get dozens of letters every day from working, would-be, wanna-be and won't-be writers, and I tell them all the same thing … Do The Work. Nobody is going to knock on your door and ask for a script, you're not going to be "discovered". Theaters aren't going to open their stage to you if you haven't sent them the best possible piece you can write, and that doesn't come easy. Do The Work.
TCW: And thanks for Doing The Work here, Joseph!
Related posts: