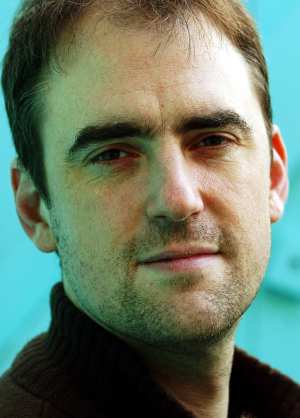 In this fourth session on writing for performance our guest is Jeremy Herrin, who will be chatting to us about New Writing for theatre. Jeremy is Associate Director at Live Theatre in Newcastle upon Tyne as well as running the New Writing department. He has directed productions at the National Theatre, The Royal Court, in the West End and at The Market Theatre in Johannesburg. He has also enjoyed directing short films and radio plays.
Live Theatre is a 160-seat theatre located on the Quayside in Newcastle upon Tyne. Following extensive renovations in 2007 the theatre also boasts a small studio space and extensive writers' facilities. It specialises in new plays and has produced the work of Lee Hall, Peter Flannery, Alan Plater, Julia Darling, Sean O'Brien, Karen Laws, Peter Straughan and Joe Harbot, among many others. Its New Writing department offers a reading service and various development and writer education initiatives as well as hosting writers' groups, a bi-annual New Writing Festival and multi-platform projects with partners from other theatres, radio, film and television companies.
TCW: Are theatres in the UK actively seeking new writing?
JH: Yes, because writing is the life blood of a few organisations, Live Theatre included.
TCW: Is it true that regional theatres like Live will only commission 'regionally themed' pieces?
JH: No, it is not necessarily true but there usually has to be some local angle: i.e. that the writer is from, or based, in the North East. Generally the play has to have some relevance to the theatre's constituency but that doesn't mean it has to be literally set here or thematically tied down.
TCW: What is a commissioning director looking for in a new play?
JH: Originality of voice, technical skill, plausibility and relevance to its audience.
TCW: Are there any themes, genre or styles that a new writer should steer away from?
JH: I would hesitate to put a limitation on any writer's work. As a small producing theatre we would struggle to find resources to mount a first-time unknown writer's work if it is too large a scale – i.e. if it needs more than four or five actors. However it would be delightful to have to break that generalisation: to do so the work would have to be of an extremely high standard.
TCW: Would you advise a new writer to work on 'shorts' or one-acts before attempting a full-length play?
JH: Yes I would. Writing a full length play has so many technical demands that it seems that the best way to 'graduate' towards that is by exploring character and theme and dialogue in a more controlled way. You learn by doing it, so the more completed work you produce, the more you can learn. There is a great deal to be said for a high turnover at the early crucial stages in your career.
TCW: What is the current 'market' for shorts and one-acts?
JH: I don't think there is a market in the fiscal sense as such. It is hard enough earning a living from full-length plays. The virtues of short form pieces are what you as a writer can learn from them.
TCW: Let's say a new writer catches your eye, what process takes place after that?
JH: A meeting/conversation trying to understand what makes them tick, whether this material is a one-off, whether the writer has the art and ambition to create some worthy work and how they and the theatre might benefit from a development process, and what the nature of that development process should be.
TCW: In your experience, are new writers aware of how collaborative the process of taking a script from concept to stage can be?
JH: They become aware in the natural course of events. A lot of new writers have fun learning that the nature of the process is essentially collaborative and after the loneliness of writing the thing in the first place, that is often a great relief.
TCW: Could you explain the role of a dramaturg to Crafty Writer readers?
JH: Not really, as I don't quite understand it myself. I think Dramaturg is a common role in the European theatre and as I understand it there is a great deal of work done between the dramaturg and the writer before a director gets involved. The British tradition that Live Theatre embodies – and that I first encountered working at The Royal Court – is much more based around a literary manager in the first instance and then a two-way relationship between director and writer. Whenever I have worked with a dramaturg I found that my role with the writer was confused by having another person in the mix. But that was only once and on a brief week-long workshop.
When it comes to 'dramaturgy' on any of the productions I've worked on I have brokered that relationship with the writer myself and it has involved giving perspective to the writer by trying to reflect back to them what they have actually written as well as offering suggestions as to how to improve the delivery of what I understand to be their vision.
TCW: What is the role of the director in shaping a new script?
JH: It depends from director to director I suppose, but my philosophy is basically outlined by the previous answer. It is important to state however that these roles and relationships are different every time, depending on several factors including the personalities involved and how they mesh, the state that the script is in, the contribution of the producers or the artistic director of the producing theatre. I know that some directors are very authorial, and some are laissez faire; it all depends on the particularities of the project in hand.
But in short: the role is highly significant, and I would encourage all writers to make the choice of their director very carefully. Any good theatre will give you the right of veto over the director – trust your instinct as you will have to work extremely closely with this person.
TCW: How useful might a playwrighting group like Live Writer's be to a new writer?
JH: It might be very useful if the writer chooses to make it so.
(TCW: As a member of Live Writer's I can tell you that the benefits of joining a group attached to a New Writing theatre are that you regularly have an opportunity to submit scripts for staged readings with professional actors and directors which, if you're any good, will get your work noticed. Collaboratively, you and your peers can spur one another on. You can also see shows and discuss them with fellow writers. So contact your nearest New Writing theatre and find out if they run a group).
TCW: Could you recommend some online resources for new writers of theatre?
JH: We are developing an on-line course at Live Theatre. Other resources I've found useful are:
TCW: Is there anything else you would like to share with The Crafty Writer?
JH: The best tip I can give you is to read and see as many plays as you can. Read Chekhov, Ibsen, Williams, Pinter, Churchill. Then, after that, the next most important thing is to simply write. As Hemingway said: "The first draft of everything is shit." Just concentrate on finishing it and then at least it exists and you have something to make better. It might take you years but keep going: even the most successful and seemingly brilliant writers struggle to stay sane, so if it's important to you, keep that faith.
TCW: Thanks Jeremy, we appreciate you taking time out to speak with us.
Books on Playwrighting:
Jeremy recommends: Black Snow by Mikhail Bulgakov is an occasionally comic novel about a first time writer working at a thinly fictionalised version of the Moscow Art Theatre. It is a very amusing warning to all would-be playwrights.
The Crafty Writer recommends: The Crafty Art of Playmaking by Alan Ayckbourn, The Art and Craft of Playwriting by Jeffrey Hatcher, The Playwright's Guidebook by Stuart Spencer and Stage Writing by Val Taylor. The Writers' and Artists' Yearbook also has some excellent resources for playwrights.
Related posts: