I've recently been interviewed by the prolific book blogger, Morgen Bailey about my literary thriller The Peace Garden. In the interview she asked me if I ever experience writers' block. I said 'no, I never have. I'm full of ideas; my problem is finding the time to get them all out.' It also reminded me of the time I was interviewed for The Christian Writer. I was asked if I needed to 'wait for the muse to arrive' before I started writing. I said no, I'm too busy to waste my precious writing time which is already under threat by other work and parenting responsibilities. When I'm given the gift of time I just get down and write. And if the muse did arrive?  I'd ask her to go down stairs and do the dishes! But does this mean writers' block isn't a genuine problem for other writers? As Morgen Bailey has just published a book on this very subject, I thought she would be a good person to ask …
Does it exist?
When asked the question 'what do you think of writer's block?' most people would sympathise, but not crime novelist Mark Billingham. His reply when I interviewed him for my blog late November 2011 was, "No such thing. Unless someone has broken all your fingers there's nothing stopping you writing." I cheated really because I'd already met him (at Oundle Literature Festival March 2011) and the question came up then, but I asked him because I wanted to prove a point.
He continues, "It won't always be any good of course, but writers have good and bad days, same as anyone else." And that's the thing to remember. We are the hardest judges (although some editors aren't far behind) of our output. It's easy for the days to fly without a word written, but just 300 a day would get you a 100,000-word novel in a year.
Don't Panic
But what happens if you're all prepared; at your keyboard with a blank page and cursor flashing encouragingly but nothing pours forth. As the great Douglas Adams wrote… Don't Panic!
There are LOADS of ways to get your writing juices flowing. I run a fortnightly writing workshop here in Northampton, England, with 10-15 minutes for each prompt to come up with something. It doesn't always happen. Even I (who set the tasks) have times (fortunately not many) when my brain freezes whilst all around me are scribbling away, but then other exercises can produce, in my opinion, some of the best things I've written in ages.
Sentence starters
The option I generally find the easiest (but one of my writers loathes) is sentence starts. Picking one from my 365-Day Writer's Block Workbook (Vol 1), 'Although they legally belong to me…', could take you in a variety of directions. It's first person present tense. What is it that I own? What's the conflict? The action's happening now, what led to this? I find once a sentence is underway it's far easier to keep going and it's a trick that some authors (including famous ones) use if they're stuck. Go to bed with a sentence half-written and the chances are you'll be able to continue in the morning.
Another regular exercise is keywords. Picking five words at random to include in a piece is fun and although we all have the same words, the stories end up being so different.
Use pictures
If you're a visual writer, then pictures can work wonders, especially of people. If you google 'male 50s' you'll be greeted with loads of potential characters. Ignoring the celebrities (and women!), pick one and give him a name, age, height, occupation, quirk, regular saying, siblings, marital status and so on. Once you get to know your characters they'll repay you by doing some wonderful things on the page.
Titles are good. Look through a magazine and pick a phrase that grabs you and see if you can make it the influence of your story.
Play with POV
If you're stuck on a current piece, try changing point of view (from first to third or vice versa, or you could try second!), tense (present / past – future!) or add in a new character or dilemma / scenario.
Perhaps you're too close to it? If you can, leave it to marinate and work on something else. That way you go back to it with fresh eyes.
Just write something!
But most of all, write something. Do freewriting. Even if it's 'I must write something' repeatedly, your brain will kick in. As Mark said, it may not be good, but you can't edit a blank page.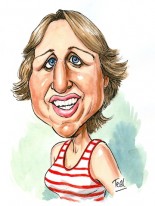 Morgen Bailey is a writing-related blogger, podcaster, writing group host, is the author of numerous short stories, novels, articles, has dabbled with poetry but admits that she doesn't "get it", and is a regular Radio Litopia contributor. She also belongs to two other local writing groups (one of which runs the annual H.E. Bates Short Story Competition) and when she's not researching for her critique group, is a British Red Cross volunteer, walks her dog (often while reading, writing or editing) and reads (though not as often as she'd like). Check out her blog including the exercise section to get your creative juices flowing.

Related posts: