I've had a good response to my interview with Khaled Mukerjee on self-publishing on Kindle – but I thought I'd take it a step further. Tambra Kendall, who has featured on the Crafty Writer before talking about how to write romantic fiction, has recently started her own e-publishing company, Daughters of Avalon. Tambra is not a first-time author and has already had some success in print and online books, so I asked her why she decided to start publishing her own material. And why, specifically, e-books?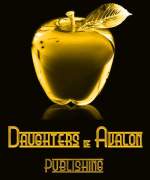 Let me introduce myself. I'm Tambra Kendall, owner of Daughters of Avalon Publishing. Some of you may be considering self-publishing and for others it is merely curiosity. Technology has now made it possible for a writer to produce a quality product. Back in 1990 when I first dipped my toes into the waters of self-publishing this was not the case.
Self-publishing doesn't mean slapping a cover together for a manuscript that hasn't been polished within an inch of its life. As with all areas of business, the crap will sink to the bottom and the good will rise to the top. Hire an editor, a writing friend you trust or a beta reader – someone who reads your story as a reader, but can tell you where things don't work. Readers don't forget the name of the author who disappointed them.
Why self-publishing?
I've been previously published in small press and three electronic publishers but have had to wait a year for royalties, endure cover art with my name spelled wrong which I had to fight with them to change, and been cheated out of royalties as an author and editor. Tired of the unprofessionalism and unethical mores, I've returned as an independent publisher. I went into self-publishing with the idea that I was going to make my company the best I could, and that meant as professional as possible. My mission: to provide quality books in ebook and print formats.
Keeping more of the profit from your work is one of the main reasons to self-publish: you know you're not going to cheat yourself from the money you earn. Also, if you are with a traditional, small press or an e-publisher you don't know the information you're being given is accurate because the publisher is the only one allowed the statistics. By becoming a publisher, you'll have an accurate count of how many books you're selling and what genre is popular with readers. In the future if you have plans to submit to a literary agent or publisher, you'll have good solid data to back you up.
Why e-publishing?
The popularity of e-books continues to soar and not just in the U.S. XinXii is an e-book marketplace based in Germany, offering a wide variety of fiction and non-fiction. Australia is another country that is quickly discovering e-books and self-publishing. The price of e-readers such as the Amazon Kindle is dropping, giving people easier access to electronic books.
Setting up your business
If you've decided to come over to the self-publishing side, take the time to work out a business plan, starting with the name of your company. The company name is something I didn't just pick off the top of my head. It was carefully chosen to highlight what I do. It's vitally important. A name immediately evokes a feeling and visual to readers and anyone else connected to you. Most of my romances are Celtic mythology inspired; Daughters of Avalon is a name that is female empowering and magical.
To brand your business you need a logo that grabs the attention of people. My company has a professional logo, business cards and stationery created by a graphic artist, Kath Urbahn, who will create my book covers as well.
The website for Daughters of Avalon is easy to navigate and provides all the information a reader needs for purchasing my books – as shown by the positive comments I've received about the site. You don't want to frustrate your potential customers; make things as easy for them as possible.
I purchased a DBA (Doing Business As) and a sales and use tax permit. Belonging to professional organizations such as Romance Writers of America and SPAN-Small Publishers Association of North America are ways that show I am serious about my career and my business. If you are considering self-publishing, it's a good idea to have a separate business account for the monies you receive. This will make things easier when tax time comes around and to tell at a glance where you are financially.
The importance of book covers
If you can't create a quality book cover, invest in a graphic artist who knows what they are doing. The cover is the first thing a potential reader sees; a bad cover will hurt your sales, especially in electronic publishing. If you have an unprofessional cover, the first thing people will think is that the work is just as terrible. A good first impression counts. You need a cover that makes a reader want to investigate the story further. Take pride in the product you are selling – if you don't care, why should the reader?
And remember, the cover must also work well in thumbnail format as this is likely to be the first view potential customers have of your book.
The bottom line
By self-publishing, you must be author, editor, marketing staff and publisher. What do you get in return for all of this work? Higher profits, hopefully. In some cases, 70% of the profit goes to you, the author/publisher. This is a huge boon for a writer! The going percentage rate for an e-published author ranges from 30-45% of the net price of the book. For third party sites, you receive about half of the amount of your percentage; many times, it is less than that.
Self-publishing vs conventional publishing
Now more than ever an author has the tools and the opportunity to take an active role in their career. Self-publishing isn't for everyone, but for some of us it provides a niche to showcase our dreams exactly how we envision them. Also note, just because you choose to self-publish doesn't mean you have to shy away from traditional publishing. My goal is to do both. JA Konrath, Amada Hocking and John Locke are three authors who have made it big in self-publishing. John Locke has made it into the million dollar club at Amazon.com for his e-book sales – he explains how he did it in How I Sold One Million Ebooks in Five Months.
Traditional publishing and self-publishing each have their strengths and drawbacks. In today's world, you have more opportunities than ever to reach readers and boldly forge ahead with a career pathway paved with hard work and planning.
I wish all of you the best in your writing journey.
Tambra Kendall
Daughters of Avalon Publishing
Related posts: