I've recently come across a new phenomenon in publishing: the independent publishing co-operative. One of the best examples I've found is Starfish – a group of authors who have pooled resources to publish their own books. As many authors struggle to get that elusive publishing deal but don't feel confident going it alone, this could be the way forward. I asked Starfish founder Martin Willoughby to tell us a little bit more about it. So without further ado, it's over to Martin …
A changing world
The world changes regularly and with each change comes an opportunity. The printing press opened up literature to far more people, despite the naysayers' predictions of doom and gloom for society, while hand-illustrated books didn't die out immediately and may well have survived far longer had not the monasteries been caught up in the reformation. More recently, the paperback was said by some to herald the end of the hardback (and literature … again) while the current ebook revolution is apparently hastening the end of life on Earth and presages the end of civilisation as we know it. YAWN.
E-publishing is an opportunity for more people to be read than ever before, democratising the process but with similar problems for the novice author getting noticed. It requires some creative thinking; but writers are good at that and a few of us found a novel solution.
A changing strategy
A little over a year ago, my writer's group thought of an idea to enable us to be published: form our own company. After taking a reality check on our situation, our lack of publishing knowledge and the dearth of funds available, we went for something simpler and formed a publishing co-operative instead, which we called Starfish.
The initial idea was to publish our work twice a year, in November and May, with proper book launches and everyone helping out with the logistics. We managed – after a false start and intrusions of reality – through sheer doggedness, to launch our first four books in November 2011.
Working together as a group we built a website, put up a facebook page, a twitter account, found a suitable location for the launch, started a blog and arranged catering and promotion, learning from all the mistakes we were making as we went along. It was wonderful.
A changing mindset
So, you may ask, how do you form a co-operative? The simple answer is: get a group of like-minded people together who are willing to take the plunge and try something different. You will need at least one of the group (preferably all the group) to know the limits of what you can achieve and rein in the more fantastical ideas or those that are beyond reach for the moment.
The one thing that needed to be reined in at the start for Starfish was the suggestion to make our books available for ALL e-readers and print at the same time. What we needed to do was test the water and see if we could anything before we tried to do everything, so we scaled things down.
We selected the Kindle as it was free and painless to upload, the books would be on an international site that was trusted and the only one who would have to worry about processing payments would be Amazon. (Having previously built websites that needed payment processing functions, I can tell you it is not something for the faint-hearted or the technologically averse. Getting another company to build and maintain the website was also expensive.)
After that, we divided the work between us and have one person handling the facebook and twitter accounts, one updating the website and one in overall charge of the blog. Everyone is an editor and critique partner, although the writer has the final say on what goes on the book, and when it comes to the launch each of us takes on a different logistical role.
In short, what one writer would have to do for each of their own books, we do together, sharing the burden, lightening the load or whatever your favourite cliche is. For us, it works.
A changing business plan
Since our last book launch we have decided that launching twice a year when we all have full time jobs is difficult, so we're only issuing books in November. We've also decided to add POD to our range for this November and will be hosting a kids' writing competition at some point to raise money for charity. As each new part of the co-operative is created and beds down, we add another one that we feel is needed. We experiment, we try things out and see what works.
In summary, working as a group can give authors support where they need it and spread the load of self-publishing. Providing everyone gets something out of it, a co-operative can work and keep you sane … most of the time.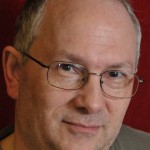 Martin Willoughby is a part-time author, full-time father, and PC security specialist with a love of gadgets he wishes he could afford.  He writes SF Comedy, is a co-founder of the Starfish Publishing Co-Operative and blogs at From Sand to Glass.
Related posts: