In my last post on Filmmaking: the screenwriter's role I told you how many people, including the director, can suggest or even demand a script rewrite.  So I've asked an up and coming writer / director for his perspective on the creative process.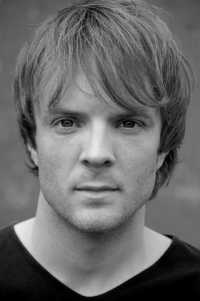 Alex Kinsey is a 28 year old actor and director. Acting work has included short films, TV dramas, commercials and theatre work. He wrote, directed and produced his first short film 'Smile' – a strange tale of a sinister meeting in the 'Get Carter' car park in Gateshead. Alex directed the short film 'Maybe One Day' through the Stingers scheme in 2008. Another recent short film he wrote and directed, 'The Other Woman', can be seen on Northern Film and Media's website.

A director's experience
I was offered the opportunity to direct a 5-minute short film through the Northern Film & Media (the UK Film Council's North East screen agency) Stingers film scheme. Craig Rutherford's script 'Bus Stop' had been selected but had no director attached. Having previously directed my own film script with funding from NFM, I was very keen to do more and while the script was not the sort of thing I would write myself, I was pleased to have the chance to direct another professionally produced short.
I was lucky to be working with two young and talented people: my producer, Jack Tarling, and the writer, Craig, who were both enthusiastic about creating a film we could all be pleased with.
Script development
The process started with a number of meetings to discuss all aspects of the production. Craig and I developed the script and made some changes to the order of scenes to create a final version that we would plan to shoot – as Craig himself said, it helped to have a fresh pair of eyes on the script to make sure the story is told effectively.
Once we had a version of the script we were happy with we submitted it to NFM for sign-off and we made some slight changes based on their suggestions. This was where a continuing dialogue with the writer was essential. At this stage my producer and I wracked our brains trying to create a solution to an issue that the Film Council raised about the story. We sent it back to Craig and he wrote in some new developments which we used to tweak the script. By now the film had become a collaboration between the three of us, writer, producer and director – and with the additional input of my editor, Nick Light, I am sure this is one of the reasons why the film was a success.
Period choices
The film is about a widowed old lady who finds a line of poetry grafittied onto her local bus stop. It emerges that the poem is one written by a lover of hers from the past and he has come back to find her, decades later. I had an idea of it being a war-time romance and due to the timings this would mean in the present day the lady would be in her 80s. So I suggested the idea of setting the film in the 1970s. This would mean so many extra complications and effort but the producer and the writer both liked the idea and we set about finding a location (houses, street and a bus stop) that could pass as being in the 70s.
Pre-production
The pre-production went on for about three months, which included finding all crew and cast – which is difficult when the budget is so tiny and there are so many people needed. Making a film can take over your life, but unfortunately it won't pay for it – so we were all having to fit it around our other jobs. Having my producer on speed dial became essential for the number of phone calls that are needed!
I was introduced to two wonderful artists who helped create the props, costumes and set-dressing – Molly Barrett and Kate Eccles. It was the first time they had worked on a film but their enthusiasm, dedication and artistic talent contributed to the film immeasurably.
A collaborative vision
It was only the second film I'd directed, so I still learned a huge amount and if I was to make the film again there is a lot I would do differently, but the Film Council seemed very happy with the finished film and we received favourable comments from the audience at the screening in Newcastle.
Making a short film is a great experience, but I don't think I would ever be precious about controlling all aspects myself. I liked working with the writer, the producer and my editor, listening to their suggestions and putting together a piece that was created by a number of people rather than simply one person's vision.
Recommended reading
To find out more about the art of digital filmmaking, check out Digital Film-making by Mike Figgis.
Related posts: