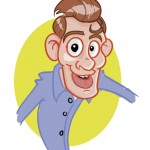 On The Crafty Writer we like to feature as wide a range of writing styles as possible. However, we've never featured writing for comics. That perhaps is because I've never met a niche comic writer only cartoonists and artists who dabbled in a bit of writing. Then along came Daniel Clifford and everything changed …
The comicbook writer
I'm asked the same questions at every market and convention I attend:
"Are you the artist?"
"Oh. So do you just write the bubbles and stuff?"
Every comic book writer has a different way of working. Each writer probably has a different way of working with each artist. Distinctions also arise between writers who self-publish and those working for companies like Marvel, DC, Titan and DC Thomson. Like many others in the UK, I self-publish. But there isn't the stigma of self-publishing in comics like there is in prose – there simply aren't enough comic companies in the country.
What does a comic writer do?
To explain what a comic book writer really does, I'll outline my process for writing Sugar Glider (for Gary Bainbridge) and Halcyon & Tenderfoot (for Lee Robinson) available at Art Heroes.
I've developed plenty of concepts that have been non-starters. Drawing a comic takes a considerable amount of time and patience, so it's understandable that some artists drop out before the project truly begins.
Working with artists
Sugar Glider started life as an illustration by Gary Bainbridge. On seeing his design of a female Batman-esque superhero, I leapt at the chance to pitch Gary his own story. Is there a better way to capture an artist's interest than suggesting their own idea?
Artists don't want to work on long unpaid projects, so it's best to approach them with ideas for 4-page strips that can be submitted to anthologies. That's how Sugar Glider started. But it quickly developed into a 3-issue series (and then I added two more issues).
Halcyon & Tenderfoot was a different story – I already had a track record of creating well-reviewed comics, so convincing Lee Robinson to work on a 4-issue series (following a short Sugar Glider story) was a lot easier.
Developing the idea
I like to know everything about my world and characters and, because I spend so long developing these things, I make sure to get my collaborator's ideas as early as possible. I don't want to develop something they have no interest in drawing, after all.
With discussions over for the time being, I lock myself away and bash out a few thousand words of notes – anything from a stream-of-consciousness to polished outlines. Once these notes are completed, I send them off for more feedback and redraft as appropriate. This part also involves finding ways to justify strong story elements the artist isn't sure of, and renege on sections my collaborator liked that I don't believe in.
More planning
There's not much choice when it comes to planning in comics. Your preference might be to 'find' your story as you go along, but if you don't reach climax by page 22, you'll be rewriting the whole thing. And you'll also need to consider 'page turns'; every page turn is a chance to leave your reader with a cliffhanger, and shock them with a reveal. So you've really got no option but to plan ahead.
Again, I send the plans to the artist and redraft.
Scripting
This is the part most people don't understand. Yes, I do write the dialogue and captions (although, I don't use captions very often) – but there's more to a comic book writers' work. Comic scripts are similar to screenplays – but you're creating a blueprint for a comic book instead of a film, and the artist is your architect instead of a director.
I write panel descriptions that outline what needs to appear in each panel, and how many panels should appear on each page. The trick is communicating your vision as concisely as possible, leaving room for the artist to express themselves. If you go overboard with the panel descriptions, the comic won't turn out as good as it could have and the artist will fall out with you.
(And when the artist stops being your friend, they go on Twitter to complain about flaws in your scripts. So learn that lesson early.)
All that redrafting of plans means there isn't much to rewrite at the script stage. I might do one complete rewrite, but it's mainly just tweaks. The artists I work with are usually content with my first attempt, so I'm often the one fighting to rework sections!
It never ends
But the script isn't all the writer is responsible for when you're self-publishing – I'm also the letterer, production manager, marketing executive … but more of that in a future blog if Fiona still remains my friend 🙂
For more tips on how to write for comics, check out Peter David's Writing for Comics and Graphic Novels.
Daniel Clifford is the writer of Sugar Glider, the Geordie superhero soap opera, and Halcyon & Tenderfoot, an all-ages comic focusing on a father and son superhero duo. Daniel also facilitates comic book workshops with Art Heroes, and solo scriptwriting sessions. For more of his work visit http://artheroes.co.uk
No related posts.