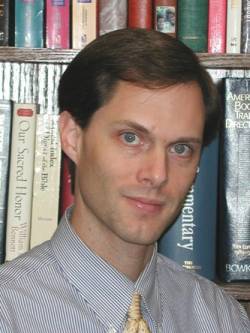 What is Christian Speculative Fiction? Rather than speculating ourselves, we decided to ask Christian publisher Jeff Gerke for his views. Jeff has served as an editor for Multnomah Publishers, Strang Communications, and NavPress. While at Strang, Jeff launched Realms, an imprint of Christian speculative fiction. In October 2008 Jeff launched  Marcher Lord Press, an indie publishing company specialising in Christian speculative fiction.  Under the pen name Jefferson Scott he has authored six Christian novels (Operation Firebrand: Deliverance is one of the best-known) and co-authored two non-fiction books. His new non-fiction title, The Art & Craft of Writing Christian Fiction, is available now.
TCW: What exactly is Christian speculative fiction?
JG: Christian speculative fiction is a fancy way of saying "science fiction and fantasy written from a Christian worldview." There are many popular genres in Christian fiction, just as there are in the wider publishing arena. But unlike in secular publishing, where fantasy and science fiction are extremely popular, Christian publishing has not always appreciated the kind of fiction I affectionately call the weird stuff.

Speculative fiction is an umbrella term to include the sub-genres of science fiction, fantasy, time travel, supernatural thriller, horror, alternate history, modern magic, urban fantasy, vampire/Goth, and other wonderfully weird kinds of fiction. And Christian speculative fiction is a term that designates all of those same genres when they arise from the Christian perspective. (Yes, there really are Christian vampire novels and Christian horror – we call them "chillers.")
TCW: So what kind of market is there for this sort of fiction?
JG: It's fairly easy to identify the demographic that loves regular Christian fiction. In North America, at least, it's white, Evangelical women of child-bearing through empty nest ages. It's the delightful ladies who populate our churches.
Understanding who they are goes a long way toward comprehending why speculative fiction often sells poorly when published by Christian publishers. These wonderful women love their prairie romances and Amish stories and cozy mysteries and mom-lit. They don't especially appreciate stories about mutant alien vampires who will eat your brains. Go figure.
Likewise, defining the audience for Christian speculative fiction may sound fairly easy. For one thing, it's simply not the audience I've just described. So we know where Christian speculative fiction readers aren't, but it's harder to find where they are.
TCW: Could you describe your typical Christian speculative fiction reader?
JG: I like to describe the core readership as Christians who love The Lord of the Rings, Star Wars or Lost. Or even Christians who would go to a fantasy or comic book convention if given half a chance.
Such a definition gives us a quick idea of who we're talking about. But where are those people? We know where they're not, but where are they? There's no Christian speculative fiction magazine. There's no convention for it. There are no stores that cater specifically to them. Nor are they of a narrowly defined age, economic, or social status. They come in all ages, sizes, races, genders, and professions.
TCW:  Then how do you reach them?
JG:  The best way to find this group is to go online. Many of the core readership has self-identified and found each other in forums, blog alliances, and online e-zines. Here's a starter list:
This hits the hardcore fans. It doesn't include the many other fans who would join these groups if they knew about them or had the time. These are the people who love Ted Dekker's novels but didn't realize anyone else had written books like his. Finding those folks is harder.
TCW:  So you've got a market and you've got a product – why isn't anyone (or hardly anyone) publishing for them?
JG: Most Christian publishing companies have basically written off the niche audience I'm describing. These houses do a great job of reaching their primary reader – the ladies I talked about above – and they are most interested in continuing to reach them. They're not motivated to explore new markets, especially ones as hard to locate as this one.
TCW: Where would you advise writers of this kind of fiction to go?
JG: It follows that writers of this kind of fiction do not find a ready welcome at Christian publishing companies. Most agents won't even represent a novel if it's in a speculative category. They know they won't be able to place such a book with any mainstream Christian publishing company.
That's disappointing for many authors – but it's great news for me. I launched my own small indie publishing company, Marcher Lord Press, to publish the finest in Christian speculative fiction and get it to this underserved niche audience. So when these authors get turned away by the regular Christian publishers, they come to me – and I get to cherry pick the most wonderful Christian speculative novels you can imagine.
I should point out that there are some Christian speculative novels that do get published through mainstream Christian presses. There's Frank Peretti and Jerry B. Jenkins (Left Behind) and Ted Dekker, and more. There are even some new Christian vampire novels just releasing. However, by and large, such things are considered long shots. And when you understand what I described about the core readership these publishers reach, you can see why they'd think so.
TCW: There are many unpublished Christian writers who are told their work is not 'Christian' enough. Can you comment on this?
JG: I know that some Christian novelists struggle with finding balance in their fiction. Sometimes they find themselves too Christian for secular publishers and too secular for Christian publishers. That's a real dilemma.
We're currently living in a publishing revolution. Soon there will be no dilemma. Marcher Lord Press is an example of a small, agile publisher that can operate with low overhead to successfully reach a niche audience. Other presses like mine will pop up soon, now that the Internet and other technology allows publishers to bypass the traditional brick-and-mortar bookstore model and sell directly to the consumer.
TCW: Does this mean you don't apply the same 'moral' yardstick that mainstream CBA (Christian Booksellers Association) affiliated publishers use? (For more on this see Simon Morden's essay  Sex, Death and Christian Fiction)
JG: In Christian publishing in North America, whatever standards are applied to fiction in general are applied to speculative fiction. Perhaps more so. Christian speculative fiction is on thin ice anyway, as far as traditional Christian publishers are concerned, so if a speculative novel contains even a modest amount of sex, violence, or foul language, it can become a convenient reason to simply say no to the whole project.
Violence usually gets a pass in Christian novels, even in mainstream Christian publishing. I have a friend who jokes about the body count in my own (Jefferson Scott) novels. It's a strange kind of arrangement for these books: you can kill people left and right but can't say a curse word. 😉
So to be accurate, I should maybe say it this way:
Sex – almost none is allowed in CBA fiction
Profanity – almost none is allowed in CBA fiction
Violence – just about anything goes so long as it's not gratuitous or too disturbing (for whoever is in charge of determining such things at any given house)
TCW: Do the same standards apply at Marcher Lord?
JG: My standards at MLP are not quite as strict as at mainstream CBA houses, but are more or less the same.
TCW: There is also a sense that only the "right kind of Christian" gets published? What kind of Christian worldview is acceptable? Who becomes the arbiter of that?
JG: Most CBA houses are evangelical Protestant and reach an audience that is primarily evangelical Protestant, so that's the determining factor there. These publishers are looking for Christian fiction that arises from the evangelical Protestant worldview and will be familiar to their readers.
That doesn't mean that Christian fiction from these houses can't talk about Catholics or Muslims or whatever else. And it doesn't mean they don't challenge readers to consider other viewpoints on the Christian spectrum. It just means that the thrust of the story and of the author need to be supportive of that evangelical Protestant tradition.
Note that these publishers aren't saying that they're judges of what Christian worldview is acceptable. They're saying they reserve the right to publish novels they agree with and that their target audience will agree with.
TCW: Back to the new wave of Christian speculative fiction. What kinds of books might now get published?
JG: Books that don't fit the traditional classifications, that's what. This is great news for those authors of Christian horror, fantasy poetry, off-brand comic books, and more. It will also give rise to a certain lawlessness where you'll be able to find any kind of depraved wackiness for sale, but that's the nature of the Internet anyway, so I think we'll be okay.
We're seeing the dawning of the age of publishing in which authors can successfully find smaller and smaller niche audiences. And for fans and writers of Christian speculative fiction, that's a very good thing.
TCW: Thanks for visiting The Crafty Writer, Jeff.
JG: Thanks for having me!
Related posts: