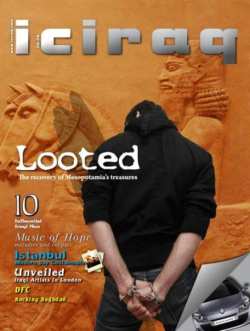 I am very proud to announce the launch of Iraq's first English language lifestyle and culture magazine, IC Iraq. When my friend and fellow creative writing MA graduate Zainab Radhi told me she had just been hired to edit this landmark publication, I was thrilled for her. So when she asked me to be her sub-editor, I jumped at the chance – particularly because I could do it remotely from right here in the UK.

The first edition covers a Baghdad heavy metal band, Iraq's symphony orchestra and the cloak and dagger story of the international effort to retrieve Baghdad Museum's priceless looted artefacts – not your average glossy fare, you might agree. However, there are also the usual fashion, cars, technology, travel, entertainment, health and lifestyle features that make up any other magazine.  
The next edition is due out in July and Zainab is looking for writers from around the world.  This is currently unpaid work, but if the magazine takes off, the publishers hope to start paying contributors. You don't have to be Iraqi, but you do have to be supportive of Iraqi efforts to redefine themselves in the public eye. There is more to Iraq than that shown through the lens of the Western media. If you would like to chat to her more or find out what she is looking for, drop her a line at mail@iciraq.com.
If you would like some advice on how to write a feature article or how to write a proposal, check out The Crafty Writer's free non-fiction writing course.
Related posts: