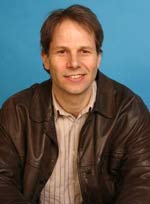 In our series on scriptwriting (see writing short films and writing for radio) we have explored some of the outlets for writing for performance. This week we speak to ex-Eastenders writer Richard Stockwell about writing for television.
Richard was an actor who had time on his hands, so started writing plays, then moved into television. His plays Bad Blood and Killing Time have been produced many times, in 10 countries and in several languages – most recently touring in California. He wrote for the BBC's premier evening soap Eastenders for two years. He is also the Programme Leader for Drama and Scriptwriting at Northumbria University.
TCW: We've just done an interview about writing for short film. Briefly, what are the main differences in style and approach when writing for television?
RS: Characters go on a journey in a film – the story usually has a beginning, middle and an end, with a character having developed and grown in some way. Very often characters remain the same throughout a TV series (and most TV programmes are series) because that's what the viewer turns on to see. If Phil Mitchell (from Eastenders) suddenly becomes nice, this means that you have to provide satisfaction in a different way. That's why the minutiae become important in TV. TV stories are closed worlds. At the end of the day they are all about families: the Sopranos are a family (obviously), ER is a family of doctors; Star Trek is a family of space travellers. Also in TV you talk more because the dog might sit in front of the telly and if you are only told the story in pictures the viewer might miss it. On film Tom Cruise is about thirty feet high so if he quivers an eyebrow, we get it.
TCW: On your course you teach that market research is imperative for any aspirant TV writer. Why is this so?
RS: I don't think people should try and write commercially, they should write what they care about. But it makes sense to try and fit what you write into recognisable formats. If you write a seven and a half minute film, what is the BBC supposed to do with it? Similarly, when you come to sell something it pays to think about how the producer is going to sell it, which channel it suits – especially now with digital everything is targeted at quite specific demographics. Never forget that TV is about viewing figures.
TCW: What is the best way to 'break in' to television in the UK?
RS: I wish I really knew the answer. Mine came from an old acquaintance from University (sounds like jobs for the boys) but I needed to have a script in my pocket when that chance meeting came. So you have to write and write so that when you do have a lucky meeting you can show them six scripts and say 'look what I've done'. So yeah, luck but then you have to have done the work to exploit the luck. At the end of the day you have to keep writing and keep hustling. Sooner or later someone will open a door for you. You have to make sure when they do you have a great script to show them.
Good advice that I wish I'd heeded! I was recently asked to submit a script for something, didn't have anything ready and so missed an opportunity.
How did you get your first break?
RS: My first writing break came from a conversation at a friend's Christening. I was chatting to a stockbroker who said 'My client has just set up a film company – why don't you send him your play?' I felt like saying 'because it's a play and this is a film company', but in the end I sent it. The guy rang back and said, 'I love your play, I've decided to produce it'. Suddenly he became a theatrical producer and he made that happen. You can't plan for that. But it does show that even when you don't think you are talking to the business, you are.
My TV break came when my agent said 'do you know so and so' and I said 'Yes, he owes me a beer from university days'. Turns out he had become a commissioning editor at the BBC. Lucky break, but as I said, you need to be in a position to take advantage of that break.
TCW: Is it essential to get an agent?
No, but then again yes, but then again no … Agents are gate keepers. If a producer puts a call out for scripts he'll get two thousand. If he (or she) puts a call out for scripts to agents he'll get as many as he wants to look at. It's a way of filtering the work. You can get the work to the people who matter; without an agent it's just harder. But then it's tough to get an agent and when you've got one you spend your whole time moaning about him/her – it's natural.
TCW: How useful might the BBC Writers' Room be to aspirant television writers?
RS: It's full of good information and work submitted through there gets read by someone – that has to be a good thing.
TCW: Are there any other online resources that you're aware of and can recommend? Books? Courses?
William Goldman's Adventures in the Screen Trade is just inspirational stuff for writers generally, although of course he's talking about film writing. Also all writers should read The Raymond Chandler Papers as he speaks eloquently about being a writer. Writing Long-running Television Series is a good collection of essays.
If you're going to try and write for soap, immerse yourself in their web sites.
TCW: It seems that the best way into writing for the BBC is via the soap route. Would you agree with this?
RS: Broadly speaking Soaps are the only drama anyone in the UK seems to be making. There's more interesting drama in the US at the moment. There are honourable exceptions to this but long running series are attractive to executives because they guarantee viewing figures.
TCW: What would you say to a writer who never watches the soaps?
RS: It's harder to write for them if you don't watch them – stands to reason!
TCW: Would you advise a writer to come up with an original concept or write an episode for an existing show as a calling card script?
RS: My calling card script was a play for the theatre. If you are coming in at a Soap entry level they will be looking for someone who can write a lot and write it fast, with a good story sense. Some Soaps ask you to write a sample episode (Doctors, for example, and I know someone who got work on The Archers – a radio soap – doing the same). But many people break in by showing that they can write something – anything – really well. If you can write drama you can write Soap.
TCW: Is there anything else you would like to share with The Crafty Writer?
RS: Just don't get too attached to your job in TV. No one is bigger than the show. Always have your own writing going on even when you're working hard for someone else because it can all stop suddenly and probably will. It's no one's fault – that's just the business and if you aren't planning your next piece then you'll be starting from a standing start when the rug gets pulled.
TCW: Well, on that sobering but realistic note, we'd like to thank Richard for taking the time to talk to us. Next week we'll be speaking with Live Theatre's Jeremy Herrin about new writing for the stage.
Related posts: